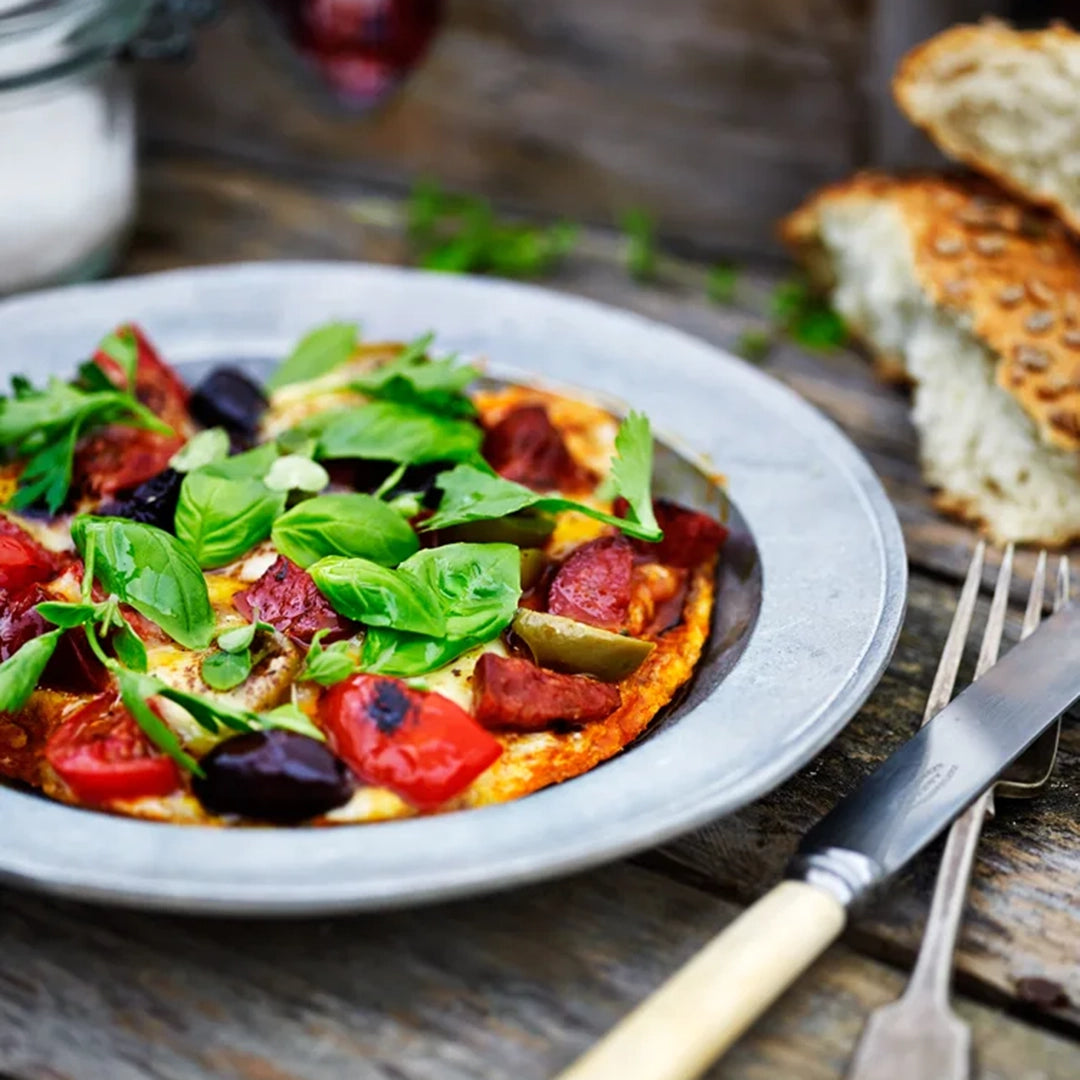 A luxurious brekkie treat that is guaranteed to help start your day with a smile on your face…
Serves: 1
Difficulty: Not too tricky
Ingredients
1-2 tsp. House Extra Virgin Olive Oil (depending on your pan)

2 Eggs, beaten well

4-5 small Grape Tomatoes, thinly sliced

6 slices Turkey Pepperoni, cut in half to make half-moon pieces

6-8 Pitted Kalamata Olives, thinly sliced

1 oz. low-fat Mozzarella, cut into small cubes Dried Oregano, to taste (about 1/4 tsp.)
Preheat a grill. Break the Eggs into a small bowl and beat well. Slice the Tomatoes and Olives, cut the Pepperoni in half, and cut the Mozzarella into small cubes.
Add the Olive Oil to the Omelette pan and heat over medium heat until the pan starts to get hot, about 1 minute. Add the Eggs and oregano, and cook until Eggs are starting to set on the bottom, about 2 minutes.
Sprinkle on half each of the Tomatoes, Pepperoni, Olives, and Mozzarella, followed by a second layer with half of each. (Be sure there is plenty of Cheese on the top layer.) Cover the pan and cook until the Eggs are mostly set and the Cheese is starting to melt, about 3-4 minutes.
Put the pan under the grill and cook until the Cheese is nicely melted and the top is starting to brown. Serve hot and enjoy!