Lemon, Thyme & Olive Oil Cookies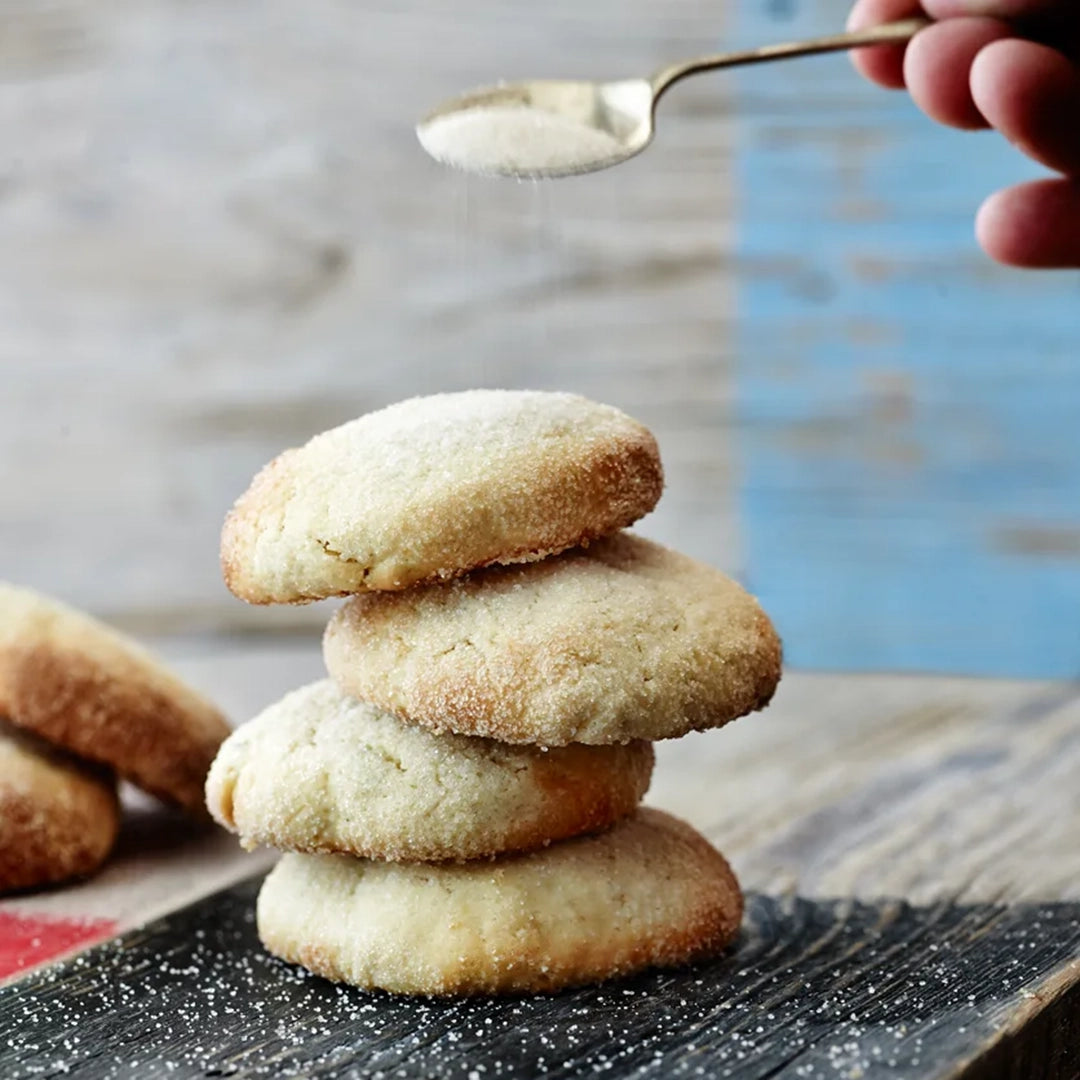 A great recipe to create ideal snacks for elevenses (or any time!) Perfected by our Baking Queen, Donna and approved by her husband Steve…
Serves: Makes approx 10
Difficulty: Not too tricky
Ingredients
1 cup Granulated Sugar
2 Tablespoons Lemon Zest (about 2 regular-size lemons) {note: save the lemon}
2 1/4 cups All-Purpose Flour
1 tsp Baking Powder
1/2 tsp Baking Soda
1/4 tsp Salt 1 tsp finely chopped Thyme
2/3 cup Virgin Olive Oil
1 Egg
1/4 tsp pure Almond Extract
2 Tbsp fresh Lemon Juice
1/2 cup Granulated Sugar for rolling
Method
In the bowl combine the Sugar (1 cup) and Lemon Zest. Rub the Zest into the sugar until it's evenly moistened and aromatic; Set aside to marinate for a few minutes.
In a separate large mixing bowl, whisk together the Flour, Baking Powder, Baking Soda, Salt, and Thyme; Set aside.
Add the Olive Oil, Egg, Almond Extract, and Lemon Juice, to the Lemon-Sugar mixture. Mix until smooth. Add the dry ingredients and beat until just combined. Using a large rubber spatula, mix in any stray flour streaks. Cover the bowl and refrigerate for at least 3 hours.
Preheat the oven to 375 F. Line cookie sheets with parchment paper. Place the 1/2 cup of Granulated Sugar (for rolling) into a large, shallow bowl. For each cookie, measure out about 2 well-rounded teaspoonfuls. Roll into balls and roll the balls through the bowl of Sugar until evenly coated. Place the Sugar-coated Cookies onto prepared sheets. Use the bottom of a glass or cup to flatten slightly.
Bake for 8-10 minutes. The Cookies will have puffed up slightly but will still look pale. (Mine were just right after 8 minutes.) Remove the cookies sheets from the oven and let the Cookies rest for about 3 minutes before transferring them to a cooling rack.