Shawarma Marinated Chicken with Chickpea & Lentil Tabbouleh and Pickled Red Cabbage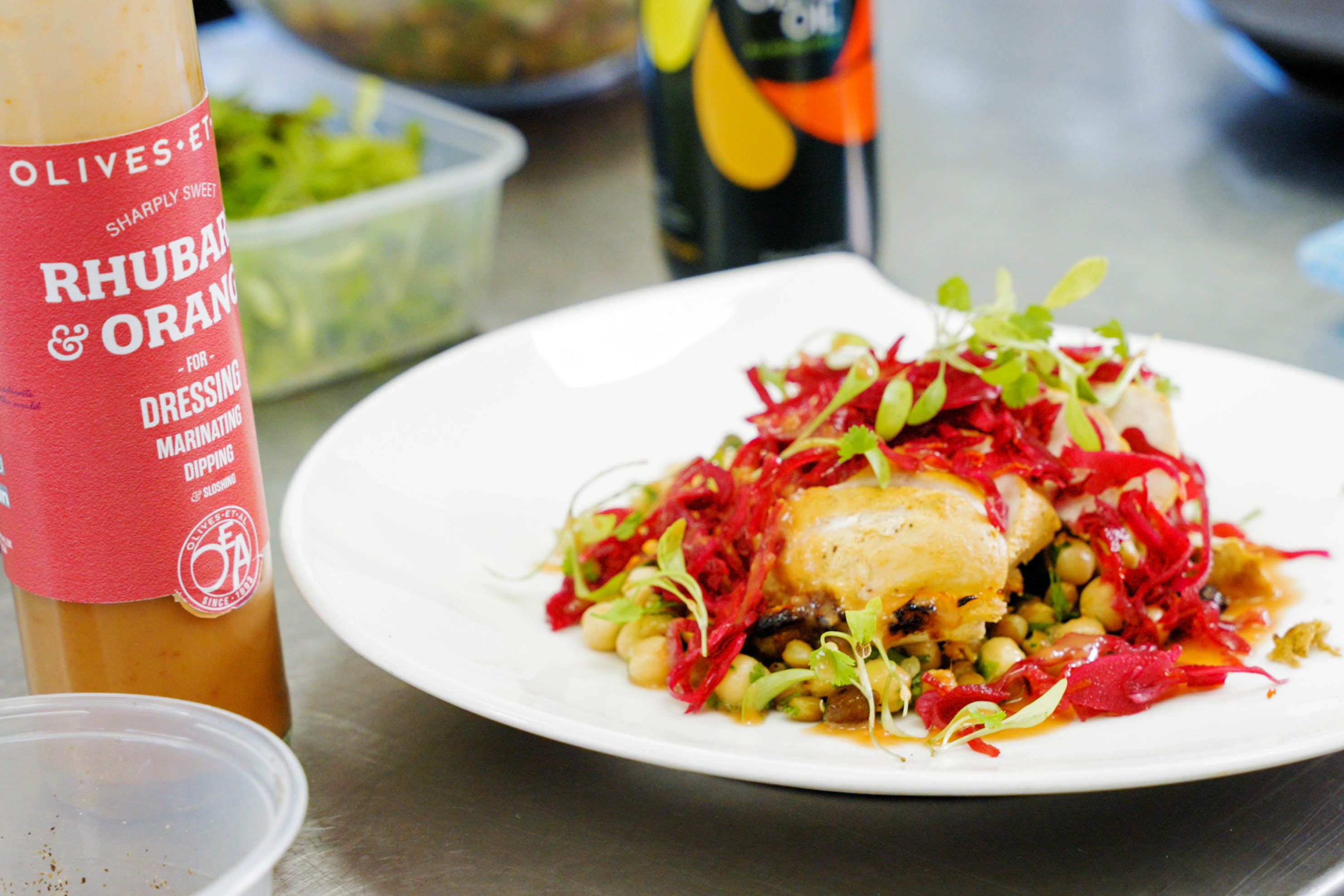 A new favourite at The Potting Shed, using our sharply sweet new Rhubarb & Orange Dressing to finish.
1) Shawarma Marinated Chicken
2 chicken breasts, skinned with no wing bone
2 tbsps. shawarma spices: nutmeg, cinnamon, cumin, turmeric, paprika, ginger, coriander
4 tbsps. Greek natural yoghurt
Make several slashes through the flesh about halfway down. In a bowl mix the yoghurt and the spices together well and into the chicken and marinate overnight.
The next day, pre-heat your oven to gas 7/220°, place your chicken onto a tray and cook for 15-18 minutes until cooked through with a core temperature of 75°. Once cooked, remove from the oven and allow to rest until needed.
2) Chickpea & Lentil Tabbouleh
1 tin mixed chickpeas 400g tin (240g) drained weight
1 tin lentils 400g tin (240g) drained weight
½ small red onion
2 spring onions
30g fresh parsley, finely shredded
1 lemon, zest & juice
Finely dice the red onion & finely shred the spring onion, mix with the chickpeas, lentils, olive oil, lemon juice & parsley, season well with salt & freshly ground black pepper.
3) Pickled Red Cabbage
½ red cabbage finely shredded

50g table salt
150ml Apple Cider Vinegar
150ml water
150g soft dark brown sugar
1 orange zest & juice
Lay the finely shredded red cabbage on to a tray sprinkle over the salt, allow to sit there for 15 minutes, once time is up, wash in a colander with cold water, place on some kitchen roll & pat dry, once dry transfer into a Kilner jar or airtight container ready for pickling.
In a pan bring to the boil the cider vinegar, water, soft dark brown sugar, the zest & juice of the orange, once up to boil, pour the hot liquor over the red cabbage & allow to cool, once cooled this is ready to use & will keep for a minimum of 3 months.
To Serve
To make up the dish, spoon on some of the tabbouleh to your chosen dish, then onto to this top with one of the chicken breasts that has been sliced, drizzle the dish with some Rhubarb & Orange Dressing, finally top with a few strands of the pickled red cabbage for texture & appearance & taste.
An optional extra is a spoon of harissa yoghurt made simply by mixing 1 tbsp of our Red Chilli Harissa Sauce with 3 tbsp of Greek yoghurt mixed well together, we finish the dish with a few pea shoots, but you can replace with some rocket leaves or simple baby leaves.