A Fresh Look for… Dressings & Marinades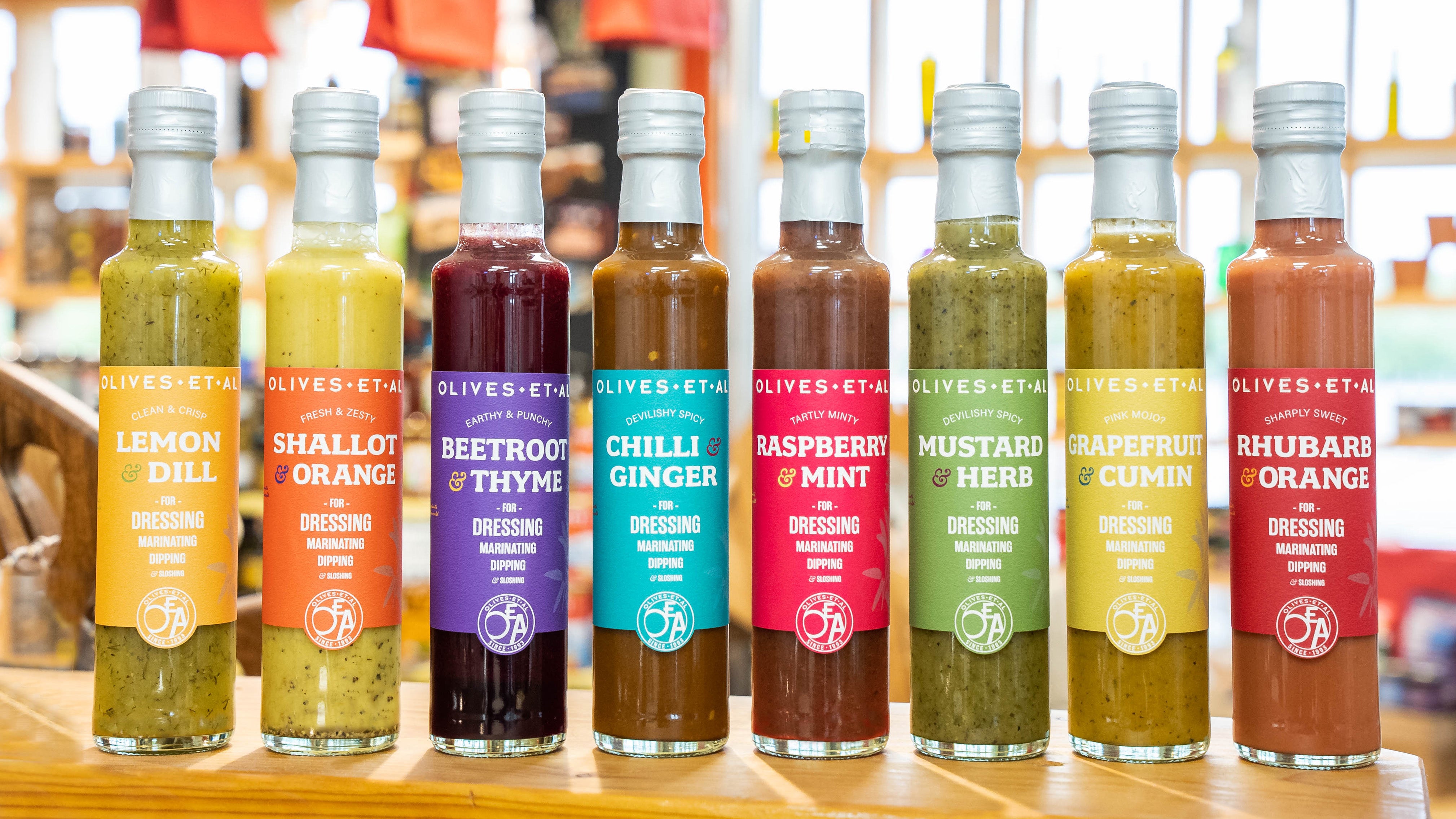 Our Dressings & Marinades are the latest collection to get our fresh new look, and we've also launched a brand new flavour…
Introducing Rhubarb & Orange
Sharply sweet and a rather wonderful combination of Rhubarb, Orange and Ginger — this marries well with fish like mackerel or scallops, over fruit salad and ice cream, or just stirred into yoghurt. Spoon it in!
Rhubarb & Orange is already proving popular for retail in both of our Delis, but also as an ingredient on the menu at our bistro, The Potting Shed.
Our Shawarma Marinated Chicken with Chickpea & Lentil Tabbouleh and Pickled Red Cabbage recipe finishes the dish with a drizzle of Rhubarb & Orange with a kick of sharp sweetness to offset the warm Middle Eastern spices.
For Dressing, Marinating, Dipping & Sloshing
Rhubarb & Orange brings our range of dressings to eight recipes, all made right here at Olives HQ in Dorset with Extra Virgin Olive Oil, naturally.
Lemon & Dill — Clean & crisp, great with fish or salads
Shallot & Orange — Fresh & zesty, made with Orange Juice, Zest, and Shallots
Beetroot & Thyme — Earthy & punchy, huge colour, and thoroughly British
Chilli & Ginger — Devilishly spicy with Harissa, Lemongrass & Ginger
Raspberry & Mint — Tartly minty, clean tasting and refreshing
Mustard & Herb — Tangy & herby, our twist on a classic vinaigrette with Herbes de Provence
Pink Grapefruit & Cumin — Pink grapefruit infused with Cumin, Oregano and Honey
Each of our Dressings is available in both 250ml glass bottles for Retail and in 1ltr plastic bottles with dispenser lids for Catering & Foodservice.
Also, take a look at how our Dressings can be used as Ingredients for Chefs — Our Dressings As Ingredients
If you'd like to hear more about our dressings or try our new Rhubarb & Orange, drop your details below or Get In Touch!