Our Dressings as Ingredients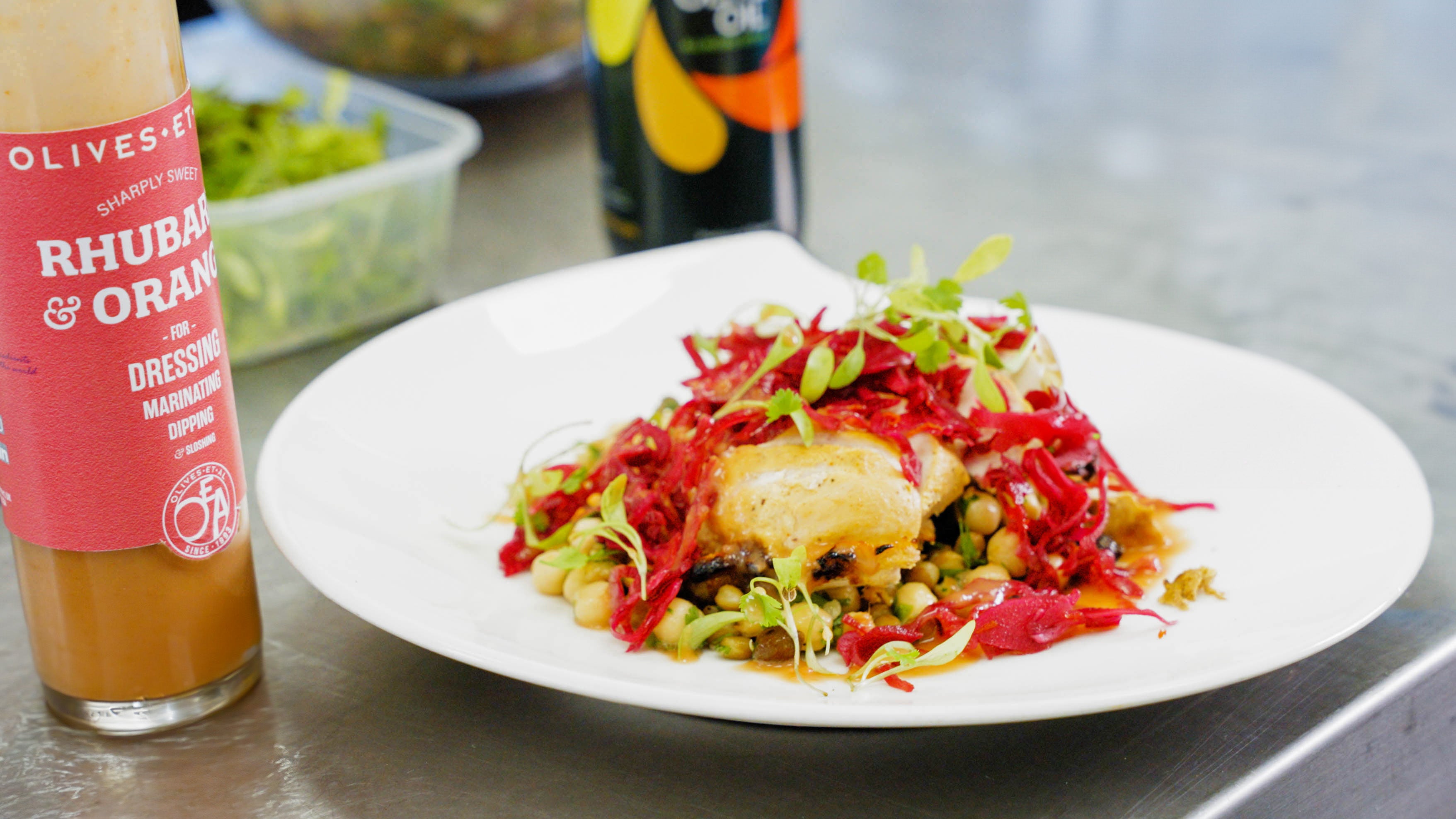 Our unique range of Dressings & Marinades (all made by us at our Dorset HQ, by the way) are capable of so much more than just topping salads.
Here's our resident Chef, Brett Sutton of famed gastropub The White Post, with some fresh ideas on how to use our dressings to take the recipes on your menu far further…
New: Rhubarb & Orange
Our newest member to our Dressings & Marinades collection and, wow, what an impact of flavour — think puddings, mackerel, chicken shawarma, shellfish, and even in your pre-dinner glass of Prosecco.
It's fruity, sharp, and tangy … the first hit of that very recognisable floral rhubarb, a gentle fuzz of ginger, then sharp & pithy orange that's fruity and acidic — what more do you need?
Sashimi of a white fish, simply seasoned and hit with a little citrus to cure, then a good slosh of our Rhubarb & Orange dressing is simply delicious.
It will cut through oily fish, fatty lamb and game alike, not forgetting puddings or simply poured over ice cream.
Or how about our Shawarma Marinated Chicken with Chickpea & Lentil Tabbouleh and Pickled Red Cabbage which uses this dressing to finish…
Beetroot & Thyme
By far our most popular dressing — earthy with honey sweetness & warming thyme at the end makes this so well balanced and moreish. It can be used in the kitchen in so many ways.
A dish of various styles of heritage beets finished with this dressing underlines all of those beetroot notes.
A carpaccio or tartare of beef is such a good match, as is fresh mackerel simply filleted & pin boned, seasoned then blow torched to cook, making sure the skin is well blistered & charred with some simply blanched samphire then dressed with the beetroot dressing is just delicious.
Shallot & Orange
A zesty dressing ideal on salads, pasta, and rice dishes, but even better on the likes of grilled chicken thighs.
Glaze the cooking tray with the Orange & Shallot dressing then drizzle over the cooked chicken legs, or perhaps also roasted scallops with a salad of baby leaf spinach drizzled with the dressing.
This dressing has a lovely acidity that would cut through the fattiness of chicken liver parfait or a confit duck terrine with new season Cornish New or Jersey Royal potatoes tossed in the dressing once drained but still warm.
Raspberry & Mint
Fruity, minty and zany … what's not to love?! Naturally you would think of this as a summer ingredient and, yes, it works perfectly drizzled over a summer salad of tomatoes, basil & mozzarella.
But this dressing in place of a coulis on a lemon tart with a salad of raspberries really takes it to new heights.
Drizzled over vanilla ice cream or to marinate strawberries or a starter dish of chilled watermelon salad with air-dried ham.
Adding a little feta with a dash of this dressing brings the whole dish to life — think crab salad or lobster cocktail. For both savouries and puddings this ticks boxes in so many ways.
Lemon & Dill
On first taste it's gravlax of salmon that comes to mind — that Swedish sweet mustard & dill dressing paired with beautiful, cured salmon and, yes, this is a perfect partner for just that, or any cured or smoked fish.
Paired with creamy goat's cheese or a summery dish of roasted artichokes is pretty tasty too.
Or you can go really cheffy and a confit egg yolk raviolo with this dressing is absolutely incredible!
Grapefruit & Cumin
As soon as you decant this dressing the smell evokes memories of the Souk markets of Marrakech.
It tastes warming, with gentle & aromatic spicing with the last flavour of pithy grapefruit.
A little drizzle of this into a tabbouleh perks it right up. This over lamb koftas with a dollop of natural yoghurt or, going the vegetarian route, it's perfect with falafel or pomegranate chicken with riz pillaf and the Mojo dressing.
Chilli & Ginger
Our take on an oriental dressing, zingy chilli, leaving that fuzzy numbing feeling with a long length of flavour that is just so diverse.
Beef stir fry, sautéed tiger prawns, chicken or vegetarian dishes then, on top of all this, just as a dipping sauce with tempura or mini spring rolls.
With udon noodles with chilli & ginger marinated salmon, this really teams up in many ways.
Mustard & Herb
This is a classic dressing with a good acidic hit with a classic mix of Herbes de Provence, ideal for dressing simple leafy salads.
But try chargrilling some vegetables then dressing whilst warm to absorb.
Because of its acidic values this is great for cutting through fattier meats like rib eye, fatty lamb or pork.
---
Keen to find out more about adding our Dressings as ingredients for your menu? Let's talk!