All About… Simply Brilliant – Kitchen Ingredients & Antipasti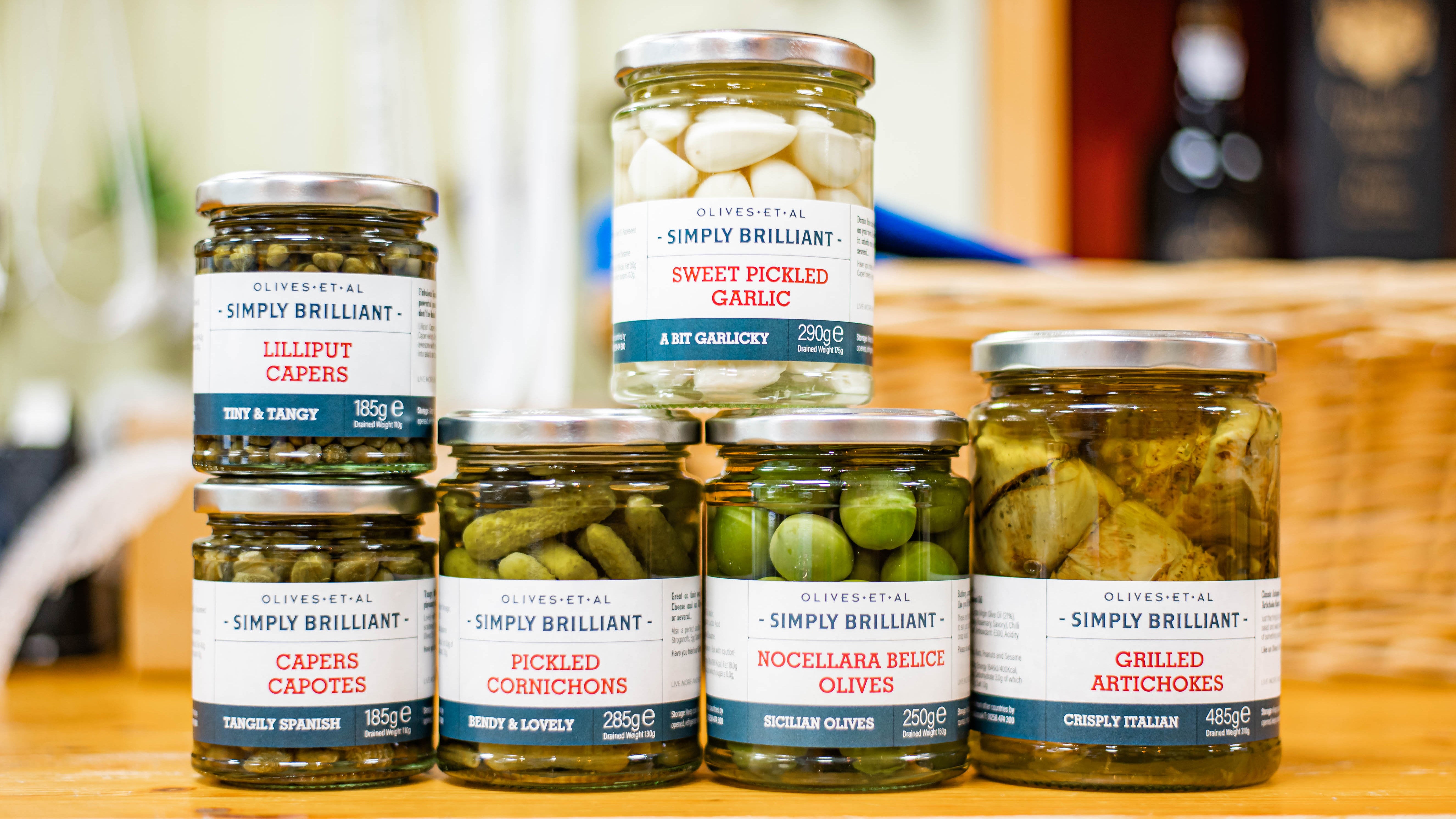 Simply Brilliant actually originated as a pandemic project for us — with the food sector on lockdown, we pivoted to home deliveries whilst continuing to supply some of our Retail customers who were able to remain open as a lifeline to their communities.
So we took the best of our antipasti and ingredients for delis and foodservice, and packaged them into jars to make a retail range for every kitchen larder.
From classic Cornichons to staple Capers and a cultured Apple Cider Vinegar, the Simply Brilliant range gives you the larder essentials to liven up a quick snack or a complicated dish.
Here's a quick overview of each of the products in the range, together with a perspective from our resident Chef, Brett Sutton of famed gastropub The White Post, with some fresh ideas to liven up your dishes…
Pickled Cornichons
Pickled Spanish Cornichons in brine and vinegar — bendy & lovely, and extremely versatile.
"These are an overlooked little delicacy that are often just thrown on a charcuterie platter to fill a gap — what a missed opportunity!

"Chopped into a tartare sauce or into thin strips in a beef stroganoff is a classic, or the break of the twangy Cornichons in a pastrami or salt beef sandwich adds the perfect relief."
Sweet Pickled Garlic
Sweet Pickled Garlic Cloves in Brine. A bit garlicky, but not overpowering — if you're a garlic lover (and we know who you are) then these are just the thing to get everyone crunching!
"These little glistening pods are crisp in texture with a sweet pickle flavour, without the garlic aftermath! Perfect on a charcuterie board, but far more versatile…

"Studded into your Sunday roast lamb or chicken or into a tray of aubergines, peppers, and courgettes, and let it do its job whilst roasting.

"Slice them up or leave them whole in a stir fry for their texture and nutty flavour or, in the winter months, drop them into a casserole for a touch of difference."
Capers Capotes
Tangily Spanish capers in Brine with a little Extra Virgin Olive Oil on top. Just the thing to add a bit of oomph to all sorts of dishes, sauces, and salads.
"Capers have so many different uses, and you don't need many to make a real impression.

"A few Capers can bring a humble pizza to life, and they can just bring a really unusual dimensions to crushed potatoes or fish, ticking a lot of boxes."
Lilliput Capers
Fabulous Spanish capers that pack a powerful punch despite their size — don't be fooled!
Lilliput Capers are the smallest, rarest Caper variety. Tiny but full of flavour, they're awesome with fish, in sauces and scattered into salads and casseroles.
"These little tart & tangy Capers are exactly as they say, although they do also carry a bit of sweetness.

"Pop a spoonful into mayo with a squeeze of lemon, some Cornichons and some parsley for a simple but great tartare sauce.

"In the restaurant a sauce with a few capers and a couple of ripped leaves of basil is welcome with most lamb dishes.

"Lilliput Capers are a much milder version of their larger counterparts, not overpowering dishes yet having their own unique flavour."
Grilled Artichokes
Crisp Italian Grilled Artichoke Hearts in Extra Virgin Olive and Rapeseed Oils. Just as wonderful chopped into a recipe as they are eaten straight from the jar!
"Nutty in flavour and highly addictive, these match up well with roast chicken, pasta, and as a topping on pizza or bruschetta. Trying them for breakfast with scrambled eggs is a must!

"Layering Artichokes between sliced layers of a potato Dauphinoise with cream & garlic and topped with cheddar is delicious!

"Poached fillets of sole with some artichokes sliced small is a match made in heaven … or just forget all that and eat them from the jar!"
Nocellara del Belice Olives
Buttery, creamy & sweetly firm, these are the classic Sicilian Olives — perfect to eat just as they are, in a crisp salad, or in a Martini.
"These buttery, succulent Olives are a gorgeous Granny Smith colour and are just delicious eaten from the jar, in a simple salad, or tossed into a spaghetti with tomato sauce — just watch out for the stones.

"They're a great addition to an antipasti board and as they're visually as good as they taste — they're almost too good to cook with!"
Apple Cider Vinegar
Single Varietal Heritage Apple Cider Vinegar from Harry Masters Jersey Apples, born and raised in Dorset.
Unlike some ACV this is remarkably refreshing and naturally sweet rather than bitingly sharp, and contains The Mother.
The Mother is the friendly bacteria contained in raw Apple Cider Vinegar — everyone needs a bit of Mothering now and then, and it's become a daily shot in our house.
"The Harry Masters cider vinegar has a rich & full bodied flavour, reminiscent of a fresh orchard apple and has great potential as a food ingredient beyond its healthiness…

"It's easy to use to pickle foods, as a vinaigrette, reduced in hollandaise sauces, or when you're cooking your bramley apples for a Sunday crumble.

"But it's really great to cook with for chicken or salmon, duck or lamb, with the acidity cutting through the fattiness of meats but leaving a sweet fruit flavour as a back note.

"Pulled pork tacos with apple cider vinegar glaze is fantastic. Apple cider vinegar and soft dark sugar reduced down produces this wonderful tangy glaze that just brings pulled pork to life!"