A Fresh Look for… Sauces & Accompaniments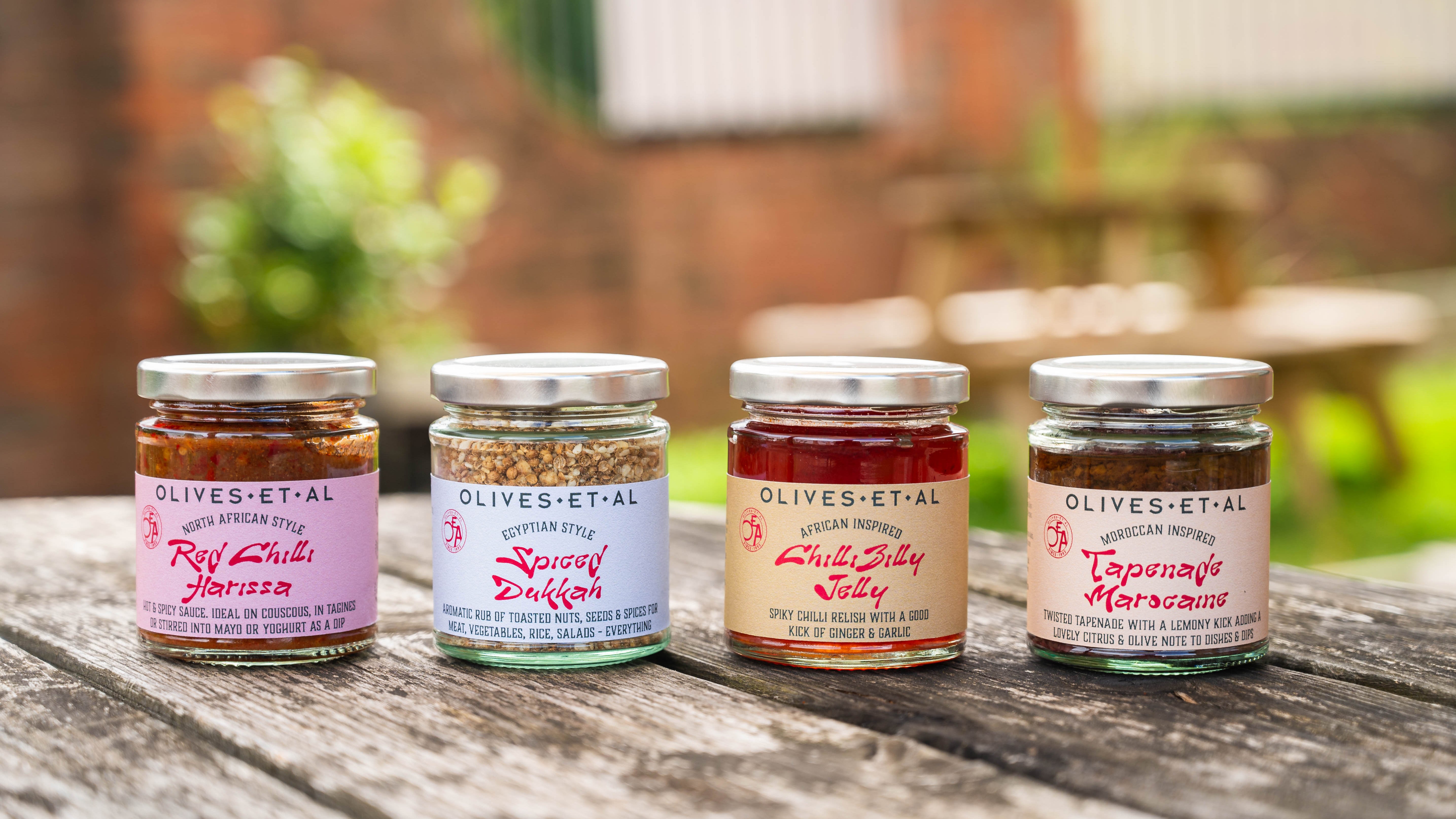 Our Sauces & Accompaniments are the latest collection to be updated, beginning with our four North African inspired recipes…
Tapenade Marocaine
Our Moroccan-style Tapenade has a twisted lemony kick, adding a lovely citrus & olive note to dishes & dips.
Named after the Provençal word for Capers, "Tapena", our recipe has Moroccan Preserved Lemons for a citrus hit. Try it with chicken or in yoghurt as a dip.
But don't just take our word for it — Lucas Hollweg, writing in The Sunday Times Style Magazine said:
"Not sure how I survived without it. Olives Et Al Tapenade Marocaine contains my favourite flavours… I want a jar of this permanently in my fridge."
Egyptian Style Spiced Dukkah
Aromatic rub of toasted nuts, seeds & spices for meat, vegetables, rice, salads … everything.
Probably the best thing we've ever made. Simply dip bread into good oil then into Dukkah. Scatter over roast veg, chicken before roasting, or into rice. Egypt in a jar.
Bread dipped into oil then Dukkah is just perfect, but we also love using it on an open tart of tomatoes, sprinkling it on at the end for texture and aroma.

Or stirred through yoghurt then spread onto a simple homemade flatbread with baby gems and a lamb kofta is simple and very tasty.
Chilli Billy Jelly
African inspired spiky chilli relish with a good kick of ginger & garlic.
No mere chilli jam, this is Chilli Billy Jelly — firmly set and ready to Billy up anything from cheese to chops, PBJ to ice cream, cream cheese to bangers. Sensible shoes please. Ace.
Full of fruity chilli, fiery ginger, and aromatic garlic, this is an incredibly addictive relish with hundreds of uses in the kitchen.
Great with a punchy cheddar in a simple cheese toastie, or stirred through yoghurt for a sweet fiery dip, and great with cold meats on Boxing Day.
Red Chilli Harissa
North African style hot & spicy sauce, ideal on couscous, in tanginess or stirred into mayo or yoghurt as a dip.
Hailing from North Africa, Harissa is widely used to add warmth and depth to all manner of dishes. Warming.
Plenty of fire and smoke on the nose, with long lasting aromas of fennel and cumin, this is a nice versatile sauce that's also really on-trend now.
A spoonful of Harissa in your tomato sauce makes for a cracking spicy pizza, or a little Harissa into prawn cocktail sauce makes a delicious Bloody Mary sauce.
Next we'll be looking in more depth at how our Sauces & Accompaniments can be used as kitchen ingredients.
---
If you'd like to hear more about our full range of Sauces & Accompaniments, drop your details below or Get In Touch